Programme Overview
The one-year programme in hotel management (IFCT)  was started in the year 2002 and is approved by the Govt. of Uttarakhand, Dehradun. Diploma in Hotel Management( DHM) Course approved by the Shri Dev Suman University has been designed for students who desire to take up a career and excel in the hospitality sector. Shri Ram Institute of Hotel Management is one of the best institutions to take up a Diploma in Hotel Management in Dehradun as well as Uttarakhand. The Job & Placement prospects of pursuing the diploma course in hotel management are endless.
Over the years, Students of the IFCT and the DHM Programme have managed to secure placements in International 5 Star Category Brands throughout the world in Brands like, Marriot, Hyatt Regency, Sheraton, The Oberois, Taj, Fairmont group, Ritz Carlton to name a few.
Why IFCT at SRIHM
WHY IFCT AT SRIHM Dehradun?
23 years of Legacy, one of the first Hotel Management institutions in North India
One of the Best Placement Record in 5 star hotels & resorts
Dedicated Placement Board of Governors ( Advisory) to ensure best placements for our Students.
Silver Service to the Hon'able President of India
Reputed Faculty with International Industry Exposure
International Internships/Jobs offered across the globe like Dubai, UK, Canada, Qatar, Australia and others.
Industrial Visits in 5 Star Category Hotels.
Live Workshops from world renowned  Chefs and Hospitality Professionals.
Smart Classroom.
PDP Session & French Lessons
Extra circular activities
Alumni of more than 4000 students across the globe.
Career Prospects
Career Prospects
Curious about where a career in hospitality could take you? Potential job outcomes may include:
Chef.
Bakery & Confectionary Chef.
Restaurant Manager.
Hotel Front Office Attendant.
Hotel Service Supervisor.
Hotel General Manager.
Food and Beverage Manager.
Front Office Manager.
Event Co-ordinator.
Fulfil your dream of having your own Restaurant and Hotel one day.
Placements
Placements
Upon successful completion of this course ,there are a number of placement Opportunities in the the hospitality industry, which is both demanding and rewarding. Students from hospitality Institutes have a future not only in hotels but also in the service sector. Name a few – Airlines, Line Cruisers, Army, Multinational Companies, etc. There is no dearth of opportunities for the students in hospitality sector.
The campus interviews and placement of various batches of RIHM have been successfully done leading the young apprentices to great height.
The Hotel industries of great name and fame have finally selected the students namely – Ritz Carlton, Taj hotel, Oberoi's, Clark, Shiraz, JP's, etc.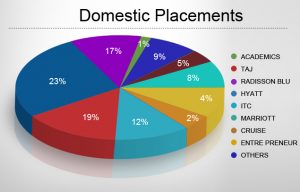 Placement board of Directors
Placement board of Directors
Eligibility & Fees
Eligibility & Fees
| | |
| --- | --- |
| Qualification: | 10th or 12th |
| Study mode: | On Campus |
| Duration: | 1 years full time |
| Start date: | 5 intake dates each year – ENQUIRE NOW FOR MORE INFORMATION! |
| Location: | Shri Ram Institute of Hotel Management, Niranjanpur, Dehradun |
| Career Outcomes: | Chef | Restaurant Manager | Venue Coordinator | Hotel Front Office Attendant | Hotel Service Supervisor | Hotel Supervisor | Bartender | Baker | Entrepreneur |
Advantage
Advantage
23 Years Old Campus – Renowned Name of Hotel Management Campus.
Dehradun – A Safe, Beautiful & Cosmopolitan Education City.
Silver Service to the Hon'able President of India.
Bundle of Industry Integrated Value Added Certificates.
Students from 08 States on campus.
Degree from Govt. Universities.
Multiple Placements for all.
More than 100+ Companies for Campus Placement.
Possibilities of International Exposure.
Located in the Heart of Dehradun City.
Impressive scholarship schemes for meritorious students. Happening campus life with a variety of sports and cultural events.
Option to pay the fee in Instalments is also available.